Captain Rod's training notes
Unlike private boat owners, you are part of a commercial enterprise and your employer has a legal duty of care to you and your customers. This means that in case there is an accident you must be able to show that:
You have considered the risks involved and have a written risk assessment,
You have received adequate training and
Any accidents or injuries are recorded.
Any dangerous (i.e. life threatening) incidents must be reported to the authorities by law.
We talked about safety precautions, how to rescue someone from the water and how to help people on and off the boat.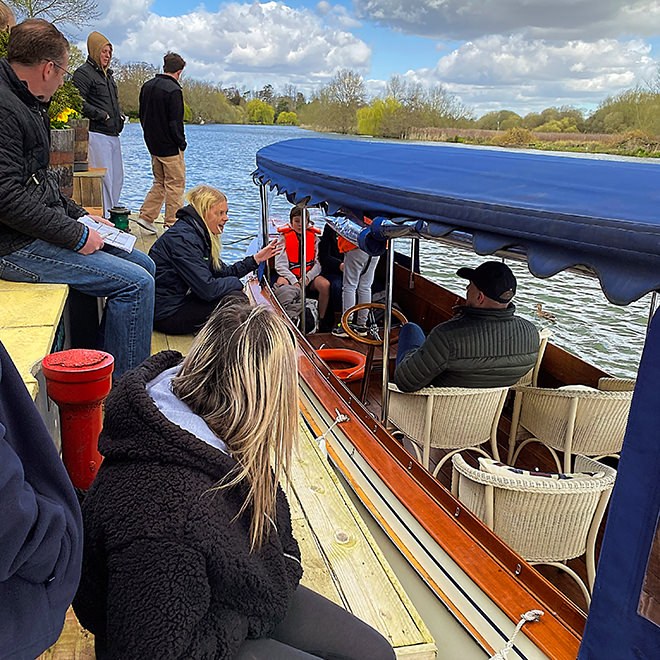 I explained that most boats have a rudder behind a propeller so that the propeller jet stream passing the rudder allows you to steer even when the boat is stationary. However, in reverse the rudder has no effect until you are going backwards quite fast, so we steer the boat going forwards and reverse slowly in a straight line.
Some electric boats, like the one we used, have no rudder: instead there is a motor and propeller in a steerable pod where the rudder would be. This works like an outboard motor and steers as well in reverse as forwards.
Always steer first, then apply power.
Always go very slowly when manoeuvring in a confined space.
Always be aware of wind and current, strength and direction.
Red and green buoys are channel markers: when going upstream keep green (starboard) buoys on your right and red (port) buoys on your left to avoid going aground. The opposite applies when going downstream. Yellow buoys indicate underwater obstructions or shallows.
After casting off always coil the mooring lines ready for use: never let the stern line trail in the water – it will foul the propeller sooner or later.